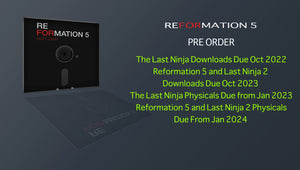 Reformation 5 DELUXE CD & Downloads Edition - Matt Gray
Includes Reformation 5 album plus both the new Last Ninja 2 and The Last Ninja albums.
Pre order for DELUXE CD & Downloads edition of the fifth Reformation album in the popular series of C64 and Amiga game/demo music remakes.
INCLUDES:
Last Ninja 2 Album Downloads FLAC/MP3
Reformation 5 Album Downloads FLAC/MP3
The Last Ninja Album Downloads FLAC/MP3
Last Ninja 2 Album CD
Reformation 5 Album CD
The Last Ninja Album CD
This album is part of a Kickstarter crowd funded project and will be released in 2 stages from Oct 2022 for The Last Ninja and Oct 23 for Reformation 5 and Last Ninja 2.
Digital content delivered Oct 2022 for TLN and Oct 2023 for LN2 and Reformation 5.
Physical CDs delivered from January 2023 for TLN and January 2024 for LN2 and Reformation 5.
Pre order customers will receive the same regular Kickstarter updates as supporters on that platform on the progress of the album production.
Tracklisting TBC