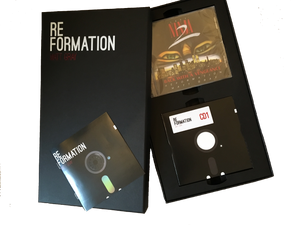 Retro Pack Presentation Box Edition holding Reformation (3 CDs) with Last Ninja 2 (CD) featuring 53 tracks (with 6 bonus tracks on downloads) including the 13 full length remakes from Last Ninja 2.
Full quality FLAC & MP3 downloads included.
This is the Retro Pack Presentation Box Edition offered in the original Kickstarter as an upgrade featuring C64 style diskette sleeves as CD covers for the 3 Reformation discs and separate inset for the Last Ninja 2 CD.
Please Note : This is a different edition to the sold out signed Ltd Edition.