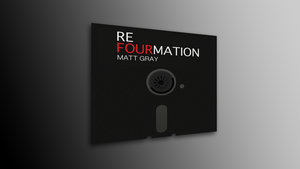 The fourth album in the Reformation series featuring yet more classic C64 and Amiga game soundtrack remakes by Matt Gray.
ReFourmation Download Only Edition includes 25 full production versions of themes from classic C64 and Amiga games.
Full quality FLAC & MP3 downloads included and available to download upon purchase.
Released 7th March 2022
Tracklisting
Ocean Loader 5 Loader
Auf Wiedersehen Monty
Physical Presence
Hawkeye (Main Theme)
Yie Ar Kung Fu II
Operation Wolf (Title Theme)
The Wildernesse Loading Theme (From The Last Ninja)
Duotris
Who Knows
Turrican 2 (Final Fight Theme)
Delta (Title Theme)
The Human Race (Chapter 4 Theme)
Palace Gardens Loading Theme (From The Last Ninja)
Mother (Dum Ikea CML Theme)
Turbo Outrun
Shockway Rider
Grand Monster Slam
Uridium 2 (Loading Theme)
Madness (In Game Theme)
Defcom
Blood Money (In Game Theme)
Test Drive 2 (Amiga Intro Theme)
Delta (Mission Complete Theme)
Times Of Lore (Title Theme)